Royal Document Destruction has been helping businesses and residents in Cincinnati, the tri-state area, Dayton, and Northern Kentucky with their shredding needs for more than 20 years. A professional paper shredding service comes in handy for any business that deals with documentation. It's a great way to stay green, lessen your carbon footprint, and ensure compliance with all state and federal laws. When you work with Royal Document Destruction, you are hiring the best at what we do – we have the experience, expertise, and local dedication of a truly great team of employees.
Businesses, hospitals, banks, corporate headquarters, law firms, and more, that hire Royal Document Destruction gain many benefits, including: customized schedules, on-site mobile truck shredding, off-site destruction at our secure facility, a professional and courteous local staff, containers and cabinets of your choice, and more.  It also comes with our commitment to being the best local shredding company in Cincinnati and tri-state area.  You won't have to wonder whether your documents are properly handled, because the paper waste picked up in our secure cabinets and containers is shred the same day, typically within minutes of arrival.  We have an outstanding team of local employees who get the job done, day-in and day-out, with the professionalism and commitment not seen often enough in business these days.
Family Owned and Operated
Who wouldn't want to support a family-owned and operated establishment that always puts in the work to do things right? The team at Royal Document Destruction is dedicated to our customers, a job well done, as well as the community at large. 100% of the paper RDD shreds is recycled.  Our secure facility, located in Blue Ash, allows us to get the shredding done immediately when our trucks arrive back to our convenient facility.  Virtually all of the paper is shred, baled up and sent by semi-load to paper mills to make recycled paper, or products with recycled paper content.
In addition, as a Cincinnati- area business, Royal Document Destruction gets involved with the local community.  Our company is a long-term supporter of Homes For Our Troops, which is our charity of choice. Homes For Our Troops provides specially adapted houses to our wounded veteran heroes. We also annually partner with Cincinnati Crime Stoppers for their Shred Day fundraiser, and we are involved in numerous local, community shred days throughout the year to help Cincinnati area citizens make sure they have access to secure and certified shredding.
The millions of family-owned businesses in the U.S. contribute to about 57% of the GDP. They employ well over half of the workforce, which means our economy is heavily supported by family-owned and operated businesses.  By hiring a local shredding company such as Royal Document Destruction, you are providing a helping hand to a Cincinnati business, and a boost to the local business community.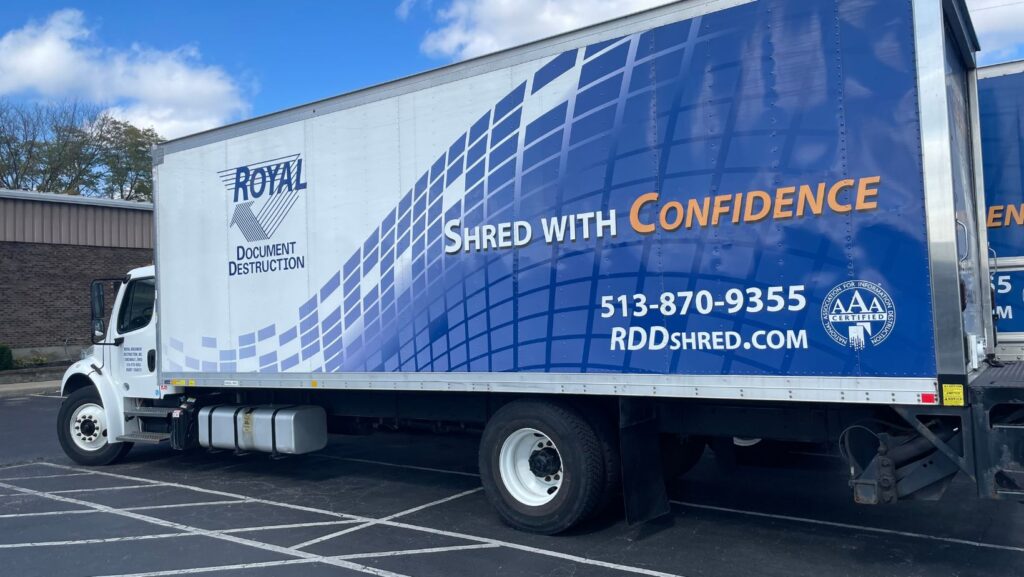 Contact Royal Document Destruction
These are just a few reasons why you would want to shred local and contact Royal Document Destruction!  From supporting the overall economy, the local economy, to building a community presence, having right-now or same-day service, and having a relationship with your document shredding company, there's no better reason to set your company up for success in this manner.
Royal Document Destruction provides off-site shredding which includes drop-off shredding and year-end document shredding services. We also provide on-site mobile shredding, plant-based shredding, witness shredding, box pick-ups, residential shredding, hard drive and media destruction, product destruction, and scheduled and file cleanout services to make sure Cincinnati, Dayton and Northern Kentucky companies have whatever shredding services that they need when they need it.
Look for our Royal Document Destruction logoed trucks in town and around 275 every business day!  We service the entire tri-state area, including Montgomery, Blue Ash, Hebron, Mason, Norwood, Hamilton, Middletown and Covington, Kentucky.  Call us today to learn about convenient, no-hassle and certified shredding services for your business.