Hiring a Columbus, Ohio based NAID certified paper shredding company is not only the most secure solution for your document protection, but also the most environmentally friendly. Is it best to recycle or shred your paper waste? By hiring a professional document destruction service, your Columbus business is actually doing both!
The Benefits of Hiring Royal Document Destruction in Columbus Are Many
According to data released by SWACO in 2019, Franklin County's recycling and composting rate, known as a diversion rate, is 50%, while the national average is just 34%. By working together as a community, Columbus businesses help preserve natural resources, create jobs, and support our local industry when hiring a professional shredding company like Royal Document Destruction.
While a 50% recycling rate is admirable, it can improve. In 2019, it was estimated that 76% of landfilled materials in Franklin County could have been recycled with a potential value of $23 million!
Paper shredding and recycling saves natural resources. Just one ton of shredded and recycled paper will save 17 trees, 7000 gallons of water, 2 barrels of oil, 4100 kilowatts of energy, and three cubic yards of landfill space.
Steps of The Secure Shred and Recycling Process for Columbus Businesses
Royal Document Destruction collects documents at businesses throughout Central Ohio in locking security containers. We encourage businesses to shred all documents to achieve the optimal outcome for participation, security, and to obtain the highest recycling rate.
At a scheduled time, our professional staff transports your company's collected documents to our highly secure state-of-the-art facility by locked and GPS tracked trucks.
Our professional shredding system operates under 24 digital surveillance and includes two complete shreds which makes information not recoverable. Shredded documents can't be read or accessed again.
Paper at Royal Document Destruction's Columbus secure facility is comingled and shred with other businesses collected paper at a very high speed to efficiently make bales of paper waste weighing 1600 lbs. and more!
Bales of paper are sorted by type of material, and then shipped by semi-trucks to paper mills throughout the Midwest, depending on the quality of material. For instance, office paper bales get shipped to one mill to make paper products, while bales of shredded cardboard will go to a different paper mill to be used to make brown paper towels or new boxes.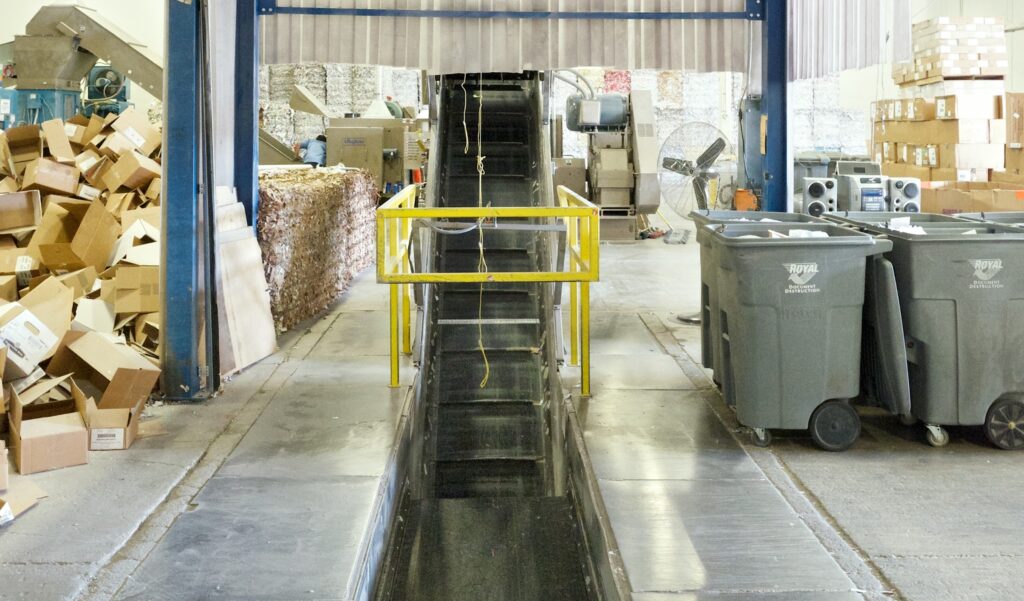 Hiring A Professional Shredding Company Provides The Best Security and Recycling Results
Your Columbus organization expects guaranteed security for documents, and a commitment that best business practices are always in place. Therefore, hire a NAID certified shredding service. Professional paper shredding companies are bonded, insured and are experts at keeping documents safe. Your business will also receive a Certificate of Destruction for your records.
Shredding with a Columbus professional shredding company such as Royal Document Destruction ensures that proprietary information, personally identifiable information (PII), and other sensitive information is destroyed properly and kept out of the hands of criminals.
Professional Shredding Companies take on the risk and liability of your document security as soon as it leaves your facility.
Royal Document Destruction's shredded bales are 100% recycled to turn into new office paper, or made into paper products such as napkins, paper towels, greeting cards, magazines, toilet paper and more. Turning shredded paper into another usable product is one of many additional benefits to trusting Royal Document Destruction with your Central Ohio paper shredding project.
Paper can be recycled for various purposes between 5-7 times! By professionally shredding your old records, your business is not just saving water and trees, but also minimizing the associated manufacturing processes that degrade the environment (like transportation, chemicals, etc.).
By taking just a few minutes to recycle right, you help to reduce pollution, contribute to clean water, conserve limited natural resources and reduce Ohio's reliance on landfills.
Use of Recovered Paper
According to the American Forest and Paper Association, in 2021, the paper recycling rate climbed to 68%, and is one of the most recycled products in our country.
In fact, more than one-third of raw materials used at US paper mills is recovered paper, and more than 3/4 of America's paper mills use recovered paper fiber to make some, or all, of their products. Approximately 140 mills use recovered paper exclusively. Virtually all types of paper products contain some recycled paper fiber. Recycled paper is a necessary and valuable resource.
Having your business documents professionally shredded and recycled is critical to protect sensitive information, helps the environment, and preserves landfill space and many precious natural resources.
Call Royal Documents Destruction For The Best Shredding And Recycling
Columbus businesses and residents have a professional and simple way to securely shred and efficiently recycle ALL paper waste with Royal Document Destruction. Our secure trucks come to offices of all sizes, your home, storage units, or any location records are being stored. One-time shredding is available for special shred projects, but many businesses choose regular document destruction services with scheduled pickups. 100% of the paper waste we collect is certified shred and recycled.
Call Royal Document Destruction's Columbus office at 614-751-9731 to find out more about our 30 years of shredding and recycling expertise.